Free Acting Resume Template Download [.docx]
---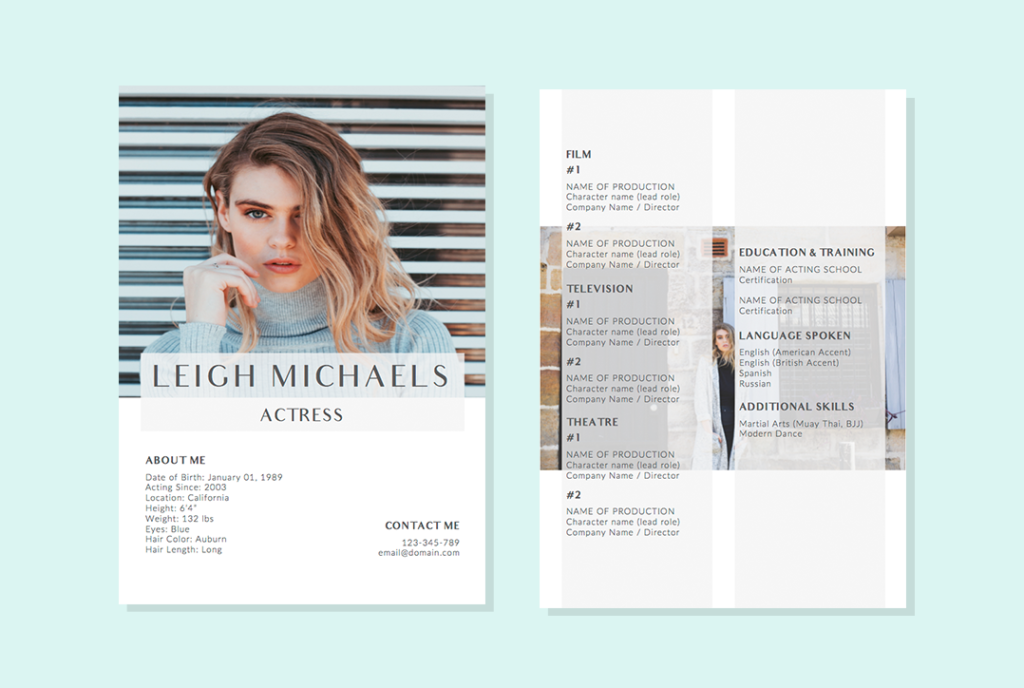 Completed an acting gig? Looking for your first casting call? Let us help you place your best act in front of your interviewers with the Leigh Michaels Resume Template. Best of all, it is free!
How to Download this Acting Resume Template?
Just click the download link below and you are on your way ↓ ↓ ↓ ↓
You will receive a .zip file that contains the acting CV template in A4 size, along with its PDF version to show you how it looks like. Be sure to install the fonts located in the "Fonts" folder first, before you open the Word document. Otherwise your Word document might not look like its PDF equivalent.
Unlike any other acting CVs out in the market, this template is specifically designed to highlight everything about an actor or actress. There is an "About Me" section, where you can tell a potential employer everything they need to know about you, such as your age, location, height, weight, eyes color, hair length, hair color, and more.
A second page is included to show your past experiences, education & training, languages, additional skills – if any. To give future employers a better look, pictures of yourself could also be included in the acting resume template.
Here's how to insert your own picture in the template:
Replacing Your Photos in the Word Template
First of all, make sure that you have all the fonts installed before you open the document in Microsoft Word or Word for Mac. Then, follow the steps below:
Click on the picture that you want to replace
Go to the "Format" tab
Click on the little arrow next to "Fill" and select "Fill Effects…"
Add your picture at the "Picture" tab and click on OK
That's how easy it is to add your own pictures in the resume template.
You could further customized the template such as changing the colors of the fonts and backgrounds to suit your preferences.
We hope this free actor/actress resume template helps you in your acting career.